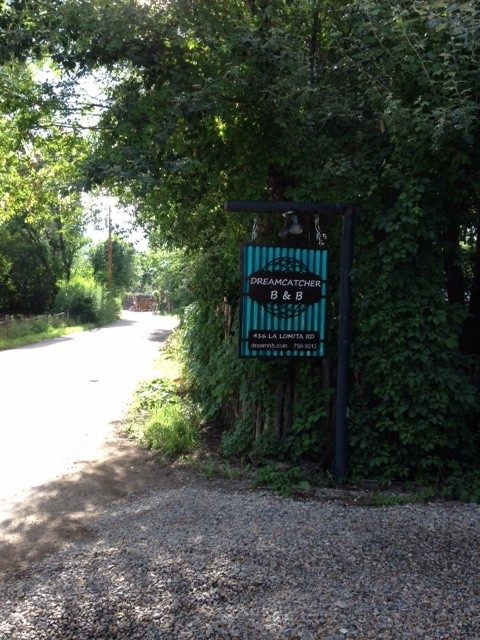 Situated in a tree lined neighborhood that could be way out in the country, but is right in town, the Dreamcatcher B&B offers classic Taos charm and comfort.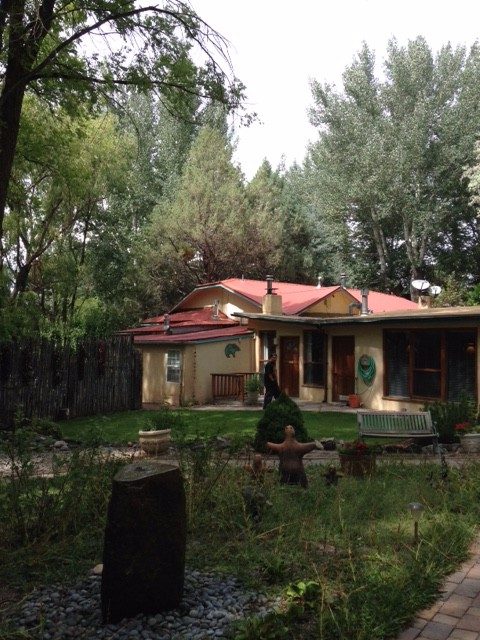 John and Prudy Abeln moved to Taos less than a decade ago and what they have accomplished in that time could fit into several lifetimes in a regular world. The Abeln's are anything but regular.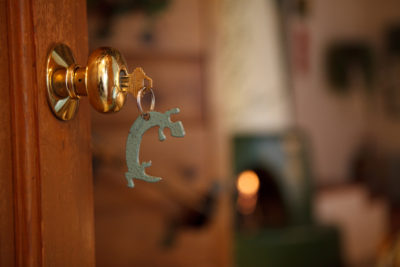 When they bought the Dreamcatcher, it had already morphed from a private home, built during the 40's, to the Ruby Slipper – its first iteration as a Bed and Breakfast Inn. The previous owners had added casitas to the existing property which is verdant and lush in the Summer months negating everything you imagined about the High Desert. The entire area changes and delights with the Seasons, inviting one to leave one's room and go outdoors. Find a spot under one of the old, shady trees to linger with a book, or simply sit and watch the myriad species of birds who also call this neighborhood home.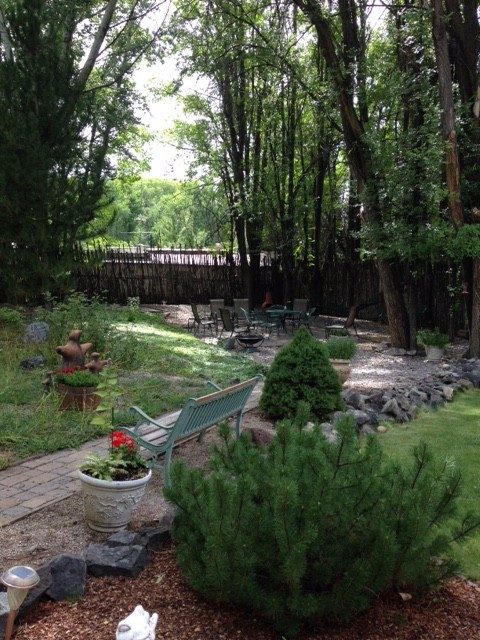 Besides running the B&B – it was by the way a turn-key project, on their first morning they had 17 guests at the breakfast table – John and Prudy each wear a number of different hats. Listening to them explain all of their projects and involvements is enough to exhaust a person half their age, never mind a contemporary like myself.
Prudy is on the Board of SOMOS, is heavily involved with the Rotary Club and is also the current President of the New Mexico B&B Association (a hat John wore before her). John, who is the adult Sunday School teacher at the First Presbyterian Church here in Taos, is also the President of MarkeTaos, which has long been responsible for all of Taos' PR and Marketing efforts and is currently in the process of new and exciting changes.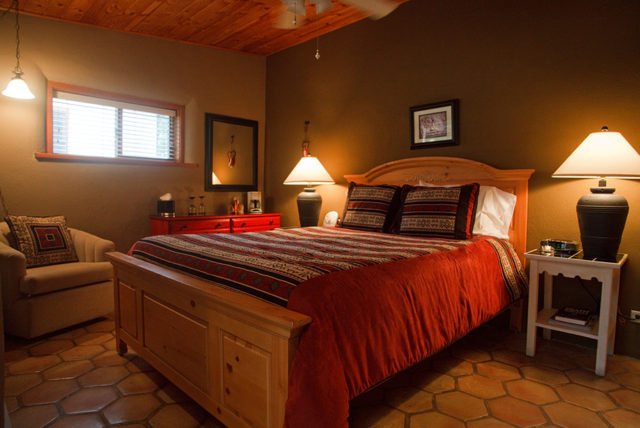 Clearly the couple are engaged in efforts to serve the Community.
The day I visited, they had just returned from the Loire Valley (they are both intrepid, avid travelers) where they were guests at a wedding held in a small Chateau, and also found time to take a few cooking classes.
"John is the creative cook," Prudy informs me. "I cook, but I follow recipes."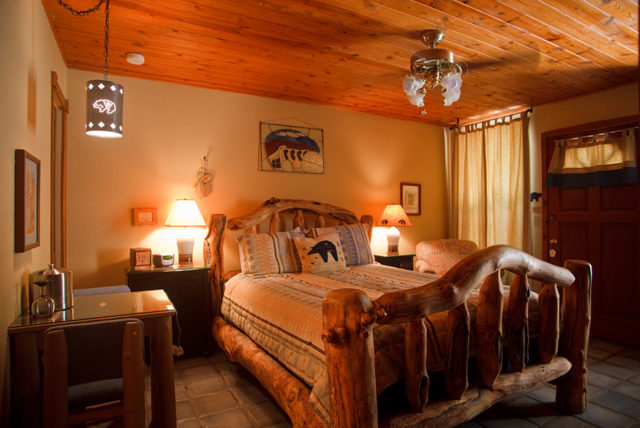 It's John who creates the fab breakfasts the Dreamcatcher is known for. He was busy erasing the current day's breakfast from the white board that hangs above the coffee station in the dining area as we talked, and was getting ready to write up the following morning's repast. For some time after they acquired the property, the couple lived on site, in two small rooms adjoining the common space.
"A couple of years ago, we found a house to rent that is only five minutes away." Prudy explains."Before that, all of our personal stuff was in storage."
"There's nothing like eating off one's own china," John laughs. "After moving from a really large home into two rooms, our little casa feels like a real luxury."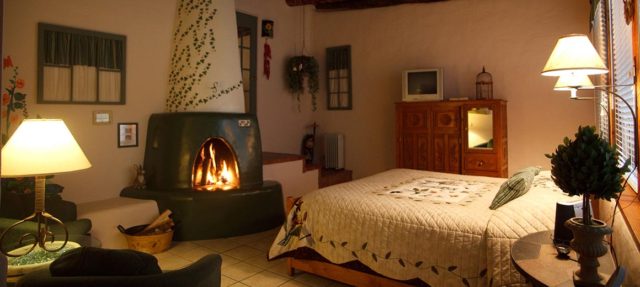 Dreamcatcher's rooms are decorated in classic Taos Style. Carved wooden beds covered with South West weavings, Kokopellis and other familiar motifs associated with the area, abound. A wall in one of the suites is painted with a mural of hollyhocks by local artist, George Chacon. All the rooms but for two, have working Kiva fireplaces and all open onto the large and heavily planted courtyard behind the main house. No detail is overlooked. There are coffee makers in every room, along with lovely amenities in the bathrooms and fluffy robes in the closets.
Although they no longer live on the property, Prudy and John have added modern decorative touches too; slighty retro arm chairs – some upholstered in bright leather hues – add comfort and style to the rooms. They give a knowing nod to the adobe's vintage provenance with their sleek mid-century design.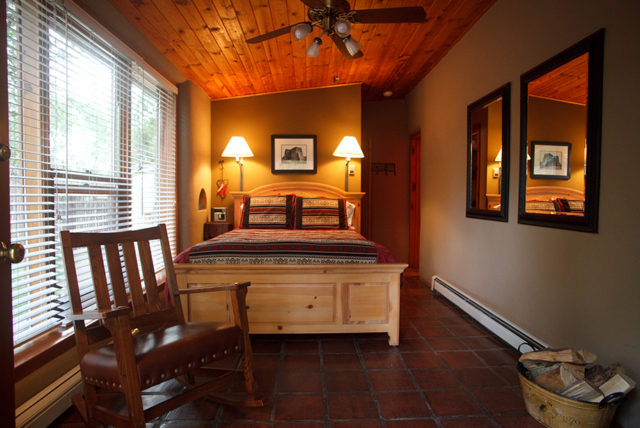 When I interviewed John and Prudy, a couple were sitting in the living area reading their books and enjoying cups of fresh coffee. They told me they always stay here. Dreamcatcher is their home away from home. Apparently they are not the only return guests, several have been coming back for years.
"Our guests come from all over the world," Prudy says, "which makes for interesting and lively breakfast conversation."
John agrees. "During the day while we are busy with our various jobs, the guests busy themselves with sightseeing, shopping, gallery hopping and other activities, but in the morning there's an incredible exchange of ideas around this table."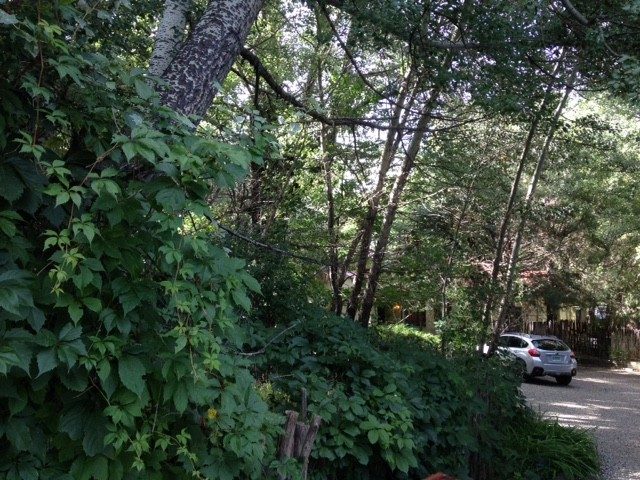 Their hosts being well-traveled, cultivated conversationalists, along with their commitment to tasty and very classic American breakfasts, ("our guests get their fill of New Mexican fare at the restaurants they eat at," Prudy says), I have no doubt the breakfast banter is witty, pithy and very informative about Taos and its history.  A boon for the lucky guests seated at the large tile-topped table.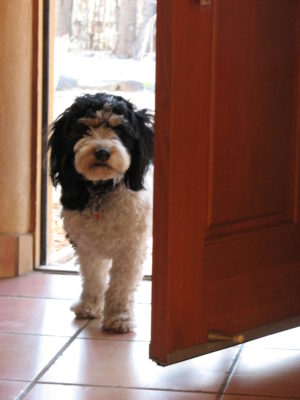 To discover more about the Dreamcatcher B&B please visit their site linked below this post for more pictures and much more information, including their own blog!
Some images taken at the Dreamcatcher B&B on my iphone, others including Jake in the doorway, both c/o John and Prudy.