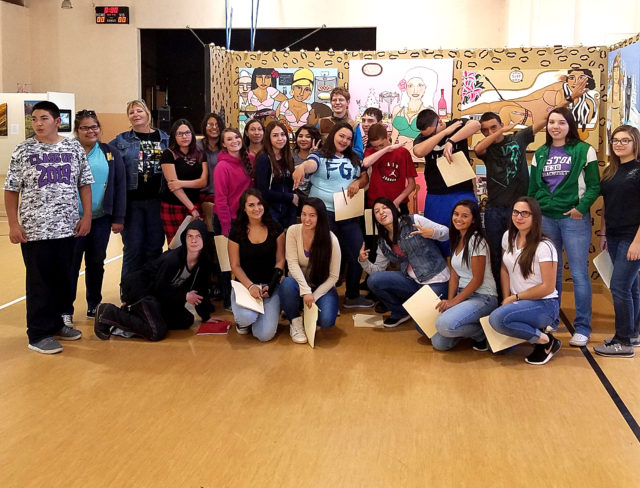 The annual Fall Arts Festival in Taos is an event that has always brought our community together  in a strong acknowledgement of the central role Art has here in Taos.
Over the past five years, the inclusion of our children with the Kids Give Back Award, has made the Festival even more relevant.
As Lisa Harris, the Director of Kids Give Back Award and Benefit for the Taos Fall Arts Festival says, "Taos has so much history based in the arts,  we want to make sure the tradition is honored and continued with our next generation of artists and hope to keep interest and growth in Taos as a beautiful, highly regarded and very special artists community."
In 2012 The Taos Fall Arts Festival inaugurated the Kids Give Back Award, engaging our schools and children in the creative process by inviting them to participate in the Festival. Providing art programs with essential financial support, while encouraging a future generation of artists, is well worth supporting.
Past recipients include: Talpa Community Center, SmART House, Taos High School, Taos Middle School, Harwood Museum of Art Education, Taos Pueblo School and Taos Integrated School for Arts. Recipient art programs are showcased the following year in the Youth Art Show of Taos Fall Arts Festival.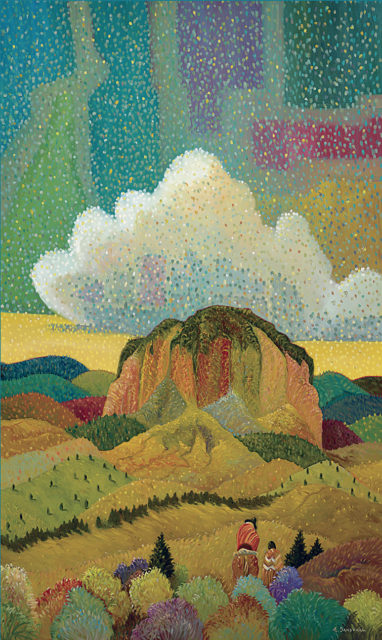 Last years award was split between TISA and Taos Pueblo Day School  They each received $500 of the total award money, which was $1,000.
Megan Bowers the Art Teacher at TISA says that "the Fall Arts, Kids Give Back award enabled TISA' to bring a year's worth of visiting artist workshops to our students. Our focus was on traditional Northern N.M. arts and our population of amazing local artists."
"We kicked off our program with the talented and famous Patricia Michaels," she explained, "who made hand painted fabric bracelets with our students, added in a visit where song and dance was led by Taos Pueblo Warchief 2016, Richard Archuleta as well as retablo making, tinsmith workshops and more. TISA has a student body that reflects the tri-cultural community we live in and in light of this we strive to always incorporate the arts that have existed in our mountain town for hundreds of years."
"We are so grateful to the volunteers of the Taos Falls Arts for giving back to our future artists," she told me.
Andrew Haimowitz, the Principal at the Taos Pueblo Day School is equally grateful for the extra funding.
He says that "the generous donation from the Fall Arts Festival has allowed students to continue creative endeavor throughout the school day and the after school program. Students who have an outlet to the arts feel more self confident about expressing themselves both in classroom activities and during  creative  projects,  Students are presently working collaboratively on a mural that represents community and  educational values at Taos Day School"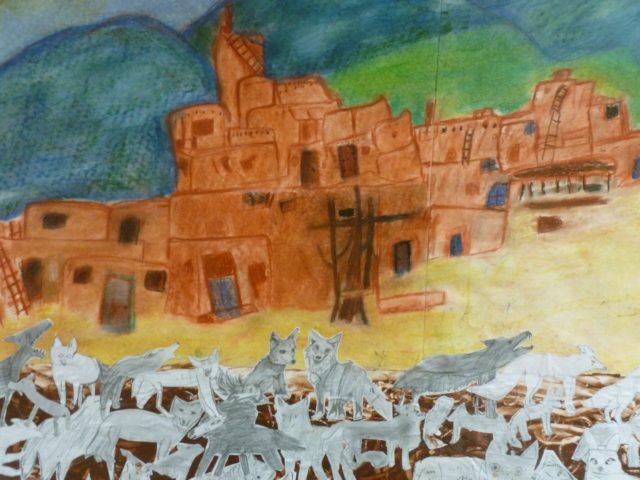 Several local businesses are sponsoring this event, including Cids Food Market, Wild Leaven, Chokola, Substance, The Gorge and Lamberts,Taos Clay Studio & Gallery, Farmhouse Cafe  Rottenstone Pottery, Josiah Cardenas and Guillermo Martinez from Taos High school, Logan Wannamaker, ACEQ, Taos Cow, Round Barn Apothecary, Sunrise Springs Spa & Resort among others.
This year, taoStyle friend and favourite,  Ed Sandoval is getting involved with the cause. It's a little known fact that Ed once headed up Los Alamos High School's Art department. I know 'cos I wrote about Ed for Paul O'Connor's award winning book, Taos Portraits. Ed loves kids and he loves instructing kids in the art of making art! Ed, who happens to be the 2017 Fall Arts Festival poster artist, will open his home and studio on Quesnell Street on September 10, 2017, from 5:00-7:00pm for a talk and demonstration.  
Complimentary wine and cheese and musical entertainment will be provided to attendees who also will be entered into a raffle for a signed and framed 2017 Festival poster.
For much more information about this event and how you (and your kids) can get involved, please visit their site linked below this post, or contact Lisa Harris directly by email: yogapuravida@gmail.com
Or phone : 917-697-2163
"Colors of Northern New Mexico" by Ed Sandoval (center) for the 2017 Taos Fall Arts Festival Poster, ​is an impressionistic rendering of the area around Nambe, where Ed was born. Thanks to Ed Sandoval.
Other images (TISA 2016 entry for Youth Art, and Mora High School Field Trip to the 2016 Art Show) c/o Lisa Harris/Kids Give Back